Drain Cleaning Services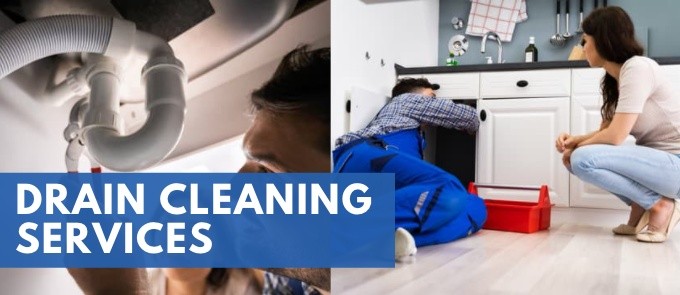 Dirty drains aren't only unattractive and inconvenient, but they can also develop into a health problem and exacerbate underlying plumbing problems if left unchecked.
Don't waste your time or money with caustic drain cleaners. They can cause harm to your plumbing, the environment, and even your drain. Instead, call one of our experienced emergency plumbers.
We employ a multi-step approach that begins with discovering the source of the blockage. We go beneath your sinks, behind your walls, and even inside your pipes to locate the source of any blockage.
Once we've found it, our team removes it so you won't have to worry about recurring repairs or an environmental impact.
Drain Cleaning Specialists
Think again if you believe that home maintenance tasks like blocked drains aren't vital!
Clogged drains can create various issues, from minor annoyances such as your water not being able to go down the pipes to major problems like plumbing and piping difficulties if left unchecked for long.
When it comes to difficulties like these, however, a decent declog liquid may not be enough—and when that time comes, you'll have to hire a professional plumber!
When you choose our professionals, you may be certain that they will have a thorough understanding of the task at hand and have the knowledge and skills to solve virtually any issue.
Do you have a clogged drain? Call Us Today
Signs of a Clogged Drain
Clogged drains are common in most bathroom sinks and tubs, where hair, soap, and other substances can easily form a clog.
Kitchen sinks and drains are likewise vulnerable to clogs regularly, owing to food, fats, oils, and grease that may not fully dissolve.
If you think hair or food has gone down the drain, you may have a clogged drain. Other indications of a blocked drain include:
A dirty ring in your sink or shower
Slow draining sink or shower
Foul odors coming from the drain
Flooding/overflowing
Hair, food, dirt, and other debris that won't go down
Frequent clogs
Backflow of dirty water
While it is feasible for homeowners to handle the problem independently and use DIY cleaning methods, it may be tough to get down to deeper blockages and clean out your drain system completely.
That's where our drain cleaning professionals come in. Our team of plumbing experts can swiftly locate the reason for a clogged drain and clear it entirely.
Benefits of Drain Cleaning
When you call one of our drain cleaning professionals, you'll get the advantages of our process and expertise. Our plumbers can use camera inspection methods to look deep into your plumbing system and discover any problems with your pipes.
Furthermore, we can provide a variety of drain cleaning solutions, such as hydro-jetting, that will clean your drains without requiring the use of harsh chemicals.
With our expert drain cleaning services, you'll get:
Steady water pressure
Properly flushing toilets
Unobstructed water flow
Buildup elimination
Increased pipe lifespan
No more clogs
No foul smells
How We Clean Your Drains
Drains may be cleaned in various ways; hydro jetting and having your drain snaked are the two methods that we use most often. A drain snake is a long device put down into your drain and used to remove the clog.
This is particularly useful in various situations, such as when your toilet is clogged or there is a blockage in your shower drain. We also utilize hydro jetting to clean drains effectively.
Hydro jetting is a type of power washing in which water is blasted at high pressures from a hose-like device to remove blockages.
This approach may also cut tree roots, which might cause significant damage to your pipes' insides. However, both of these procedures are quite successful in unclogging pipes.
Hydro jetting is typically advised over acid cleaning because it will remove the whole line and leave no sign of the blockage.
Professional Drain Cleaning Experts
We are the professionals you can depend on. If you call our emergency plumbing pros today, you won't have to worry about your pipes or clogs again. Our team of experts will come out and fix any problem, big or small!
Do you have a clogged pipe? Leaking pipes? Give us a call right away to take care of this for you before it becomes even more serious.
Frequently Asked Questions