24 Hour Emergency Plumbing Services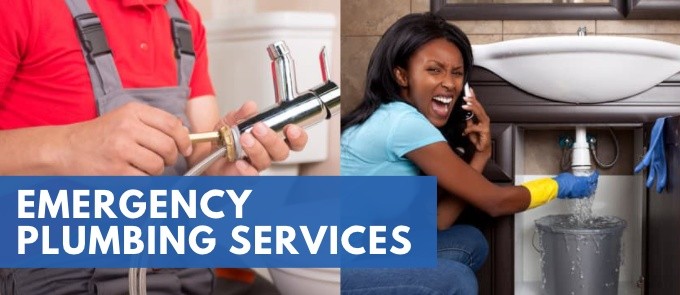 You don't have time to lose if problems develop with your plumbing system. In many situations, you have enough time to arrange an appointment and prepare for it.
However, sometimes things go wrong, and you require assistance immediately. That is why, when you call our company to dispatch an emergency plumber at any time of day or night, our experts are ready with helpful customer service.
We won't leave you guessing what to do or who to contact. Instead, we'll walk you through the procedure and get there as quickly as possible to help you.
We Provide All Emergency Plumbing Services
Certain services, on the other hand, can't wait until the next day. Give our team a call if you were awoken in the middle of the night by a water pipe bursting or if your family is visiting for a national holiday and the water suddenly stops working.
Some of the common plumbing emergencies we're called to handle include:
No Running Water
If you're repeatedly turning on the tap and yet finding no water, this may be considered a plumbing emergency.
You may take the extra time to call your neighbors and see if they're having the same problem, which would suggest an issue with the city's water system.
Otherwise, we'll dispatch an expert plumber to determine where the problem is originating from.
Water Dripping From Ceiling
Even a few little drips into your house might indicate a larger underlying problem that you can't see. Water that pours continuously may cause mold and mildew to develop, which are harmful.
Ignoring indications of pipe leaks might result in additional water damage repair and restoration expenses in the future.
Our plumber will examine the problem to see whether it's a faulty faucet, poor sealing, fractured pipe, or something else.
Toilet Overflowing
Overflowing toilets are never a pleasant experience to be in, and there's usually a blockage in your drain, causing the water to come straight back out.
If your toilet is clogging more frequently leading up to the overflow, it may be a blockage in the vent pipe that directs air into the plumbing system to compensate for air pushed out with each flush.
If the water in the tank is overflowing from the bowl rather than the tank itself, it's a sign that your filler float is set too high.
This means that your tank will fill with too much water before hitting the filler float, causing the sides of the tank to leak water.
Freezing Showers
Check the rest of your taps to see whether any of them will produce warm water if you walk into a freezing shower in the morning.
You could also check whether anyone else has recently showered, using up the hot water in your water heater. If you can't figure out where the freezing water is coming from, it's time to call an emergency plumber.
Flooding
Every minute counts when it comes to recovering from flooding, as well as minimizing damage quickly.
Furthermore, if filthy water has any bacteria in it, you'll be putting yourself at risk. Flooding can occur in various ways, including as a result of severe weather, faulty dishwasher, overflowing toilet, washing machine failure, or water heater failure.
Blocked Drains
Whether there is root growth in the sewer line, something was emptied that shouldn't have been, or a busted drain line, our plumbers can quickly identify the source before advising you on remedy choices.
We'll check the drains with a camera and utilize the most successful method of repairs, such as rooter service and Hydro Jetting, to ensure that everything is in working order.
If none of these solutions works, our specialists will walk you through alternative replacements.
Do you have water heater leak? Call Us Today
Other Common Plumbing Emergencies
Knowing the warning signs of emergency repair service is critical to handle such circumstances successfully.
Here are 12 more indicators of plumbing emergencies:
Burst Pipes
Flooding
Wet Yard
Sewer Line Stoppages
No Hot Water
Blocked Toilets
Sump Pump Failure
Downspout & Duct Obstruction
Gas Leaks
Rusted Pipes
Loud Gurgling Sounds
Foul Odor Throughout the Property
Residential Emergency Plumbing
For our experts, single-family houses are our specialty. Our team of experts has extensive experience with all types of home plumbing systems and can troubleshoot and locate the most cost-effective solutions swiftly. Whether you live in a house or an apartment complex, we can help.
Homes
We have the know-how, tools, and support to fix any plumbing issue in your house. We can handle everything from your sink to your waste system and anything in between.
Apartment Buildings
If you live in a high-rise apartment building, there's a good chance an emergency professional will be on the scene immediately. However, these experts can rarely handle major plumbing problems, which is when you should call our team for assistance.
Commercial Emergency Plumbing
Commercial plumbing issues may become more difficult to resolve than residential emergency ones because they affect numerous clients or residents. A toilet clog or a lack of hot water can harm the business, which is why we always advise calling a plumber as quickly as possible to maintain things operating effectively.
Restaurants, Bars, and Other Eateries
These high-traffic businesses require immediate attention since they experience a lot of traffic. By contacting emergency services promptly, you can avoid unpleasant reviews and health concerns.
Motels, Hotels, and Resorts
Short-term rentals, like restaurants, are subject to rapid turnover and plumbing systems that might give a poor first impression on an unsuspecting customer.
Business Offices
Sales may fall due to plumbing issues, employees needing more sick days, and the possibility of poor reputations. To avoid these difficulties, business owners should quickly address plumbing emergencies.
Other commercial businesses we serve include:
Assisted Living and Nursing Homes
Sports Arenas & Venues
Malls & Shopping Centers
Food Retailers & Grocery Stores
Convenience Stores & Gas Stations
Schools, Colleges & Universities
Public Buildings & Airports
Contact Our Expert for Dependable Emergency Plumbing
Whether you have a clogged toilet, leaking pipes, or any other plumbing need, our 24/7 local pros are ready to help.
Let us know what your needs are, and we'll get back to you quickly so that you can continue living in peace without worrying about the water damage caused by leaky pipes.
We also offer emergency plumber services for those who don't live near one of our locations. Give us a call today!
Frequently Asked Questions