Residential Plumbing Service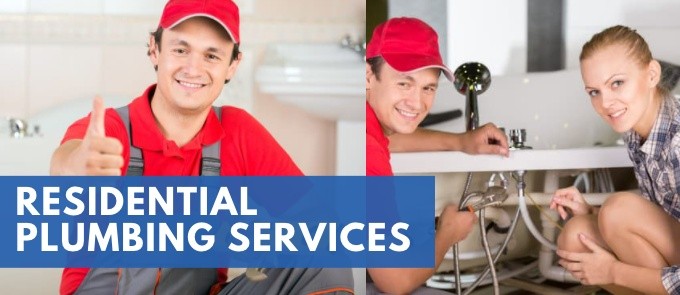 Drain clogged? Was the water heater broken? Wondering if you have a leak? Give us a call at (877) 959-6069 for top-rated residential plumbing services available near you.
Plumbing is one of those issues about which you rarely give much thought until it breaks down. We understand that.
We also understand how quickly plumbing climbs to the top of your list of priorities when there's a problem. That's where our plumbing professionals come in.
We adore plumbing, and we consider all of your home's plumbing needs year-round, so you don't have to.
From regular maintenance and installations to emergency circumstances and plumbing difficulties, we've got you covered. Our residential plumbing service is here to handle all of your residential plumbing services.
We've got the knowledge, tools, suppliers, and products you need for residential plumbing service that can't be beaten.
Preventative Services
Many property owners believe that you only need a plumber if something goes wrong. But the smart buyer is prepared for anything.
Annual inspections and preventative maintenance are two excellent methods to extend the life of your appliances and avoid costly repairs and emergencies.
Here are a few of the things you should look for regularly:
Check for signs of water leaks around pipes and equipment
Look for signs of rust and corrosion
Inspect the water supply lines and fittings on your washing machine, sinks, dishwasher, toilets, and water heater
Check your water pressure
Examine outdoor hose bibs
Review your water bill against usage
Ensure your water heater is up to code and operating properly
Do you have a clogged drain? Call Us Today
Plumbing Leaks and Pipe Repair Services
Leaky pipes are undoubtedly the first thing that springs to mind when considering home plumbing services. Perhaps your sink faucet is leaking, or you've noticed water around the base of your toilet.
Leaks in your plumbing may appear to be a minor issue, but letting them go can lead to costly issues. Even the tiniest leak may result in property damage if it is left unnoticed.
Plumbing leaks and pipe repair are two of the most frequent inquiries for our specialists. Our expert plumbers have the tools and knowledge to find the issue, develop a quick, effective answer, and avoid your property from significant damage.
For leak and pipe repair, we provide the following residential plumbing services:
Leak detection
Pipe leak repair
Bathroom leak repair
Kitchen leak repair
Outdoor leak repair
Sewer pipe repair
Waterline repair
Pipe replacement
Plumbing Services for Kitchens
Your kitchen is one of the most important sources of plumbing in your house. The key to a well-functioning kitchen is maintaining your plumbing system in good working order. It's also essential for your health, ensuring that you have access to a dependable water supply that is safe.
As experts in the field, our team understands the varied plumbing demands of residential kitchens. We assist homeowners in keeping their plumbing operational and repairing any plumbing issues quickly and effectively.
We provide the following residential plumbing services for kitchens:
Drain cleaning
Faucet installation
Faucet repair and replacement
Sink installation
Sink repair and replacement
Garbage disposal installation
Garbage disposal repair and replacement
Water pressure issue repair
Plumbing Services for Bathrooms
Your bathroom is frequently the first thing that comes to mind when someone mentions residential plumbing services before your kitchen. This is because it's one of the most heavily utilized sections of your home for your plumbing system.
The bathroom is used by your family more than any other location in the house since it has to connect all of these areas. You may not pay much attention to your bathroom plumbing, but you'll notice if anything goes wrong.
Our expert plumber team is available to ensure that your bathroom's plumbing is in good working order, from a new installation to bathroom plumbing repair. For bathrooms, we provide the following residential plumbing services:
Toilet installation and replacement
Toilet clog and leak repair
Faucet installation and replacement
Faucet clog and leak repair
Water pressure issue resolution
Drain cleaning
Sink installation, repair, and replacement
Shower and tub installation and replacement
Shower and tub repair
Bathroom upgrades
Speak With a Plumbing Expert Today!
Plumbing Services for Water Issues
Your water supply has a significant impact on the safety and comfort of your home. A constant, dependable water supply that heats up as you desire it without difficulty is critical to your health and well-being.
Our plumbers are on call 24 hours a day, 7 days a week, to make certain you have clean, hot water at your home and that any plumbing problems affecting your water supply are addressed as soon as possible.
You may wish to call our expert plumber if your water is discolored, has an unusual taste, or smells bad. Following your senses is an excellent method of detecting abnormalities.
When you fail to address typical water quality concerns, your house and health might be harmed.
We provide the following residential plumbing services for water issues:
Water heater installation and replacement
Water heater repair
Water heater maintenance
Water filtration systems
Water leak repair
Sewer line repair and replacement
Affordable, Responsive Local Plumbing Professionals
If you have clogged or leaking pipes, give our professionals a call. We provide 24/7 service, and we're available 365 days of the year – even on holidays.
Our plumbers have licensed professionals with years of experience in all areas of residential and commercial plumbing and drain cleaning services.
When we arrive at your home or business, you can be assured that we will clean up any messes left behind from fixing your plumbing problems – because it doesn't make sense to invest money into solving problems if they keep reoccurring due to neglectful property management practices!
Contact us today for more information about what sets us apart from other local plumber companies.
Frequently Asked Questions