Water Heaters Services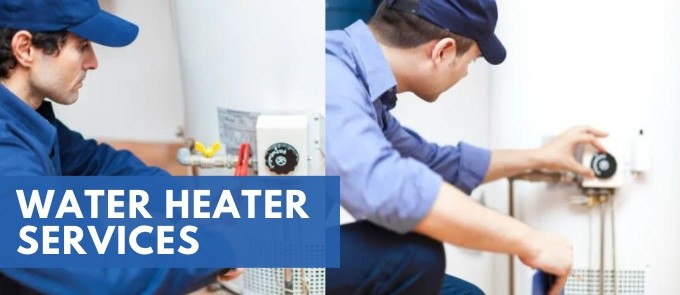 Water heaters are one of the most popular home appliances. When they're functional, we like having hot water without thinking about the water heater that produces it.
We use these units to make hygiene simple with daily hot baths and cook with on-demand hot water. However, the failure of a water heater might put your daily routine on hold!
When it comes to water heater installation, repair, or maintenance, our professionals are the only ones you should trust to do the job properly the first time.
Our plumbers have years of expertise, are fully certified and highly trained, and are up-to-date on the newest water heater technologies. We'll provide all of the water heater services you require and explain why your neighbors enjoy our service!
Call our water heater service professionals at (877) 959-6069 to schedule an appointment.
Have a Broken Water Heater?
Water heaters, like any other machine, may develop problems over time. On the other hand, a regular water heater has an average lifespan of 8-12 years and will therefore need to be replaced approximately every 5-6 years.
A hot water heater may produce too much heat, insufficient heat, or no heat at all. If you need a water heater repair, count on the guaranteed work of our professional experts in your area.
The following are some of the most common water heater issues:
Knocking sounds
Standing water in the unit
Water leaks
Issues with water temperature
Shutting off
Running constantly
High energy bills caused by an inefficient heater
Gas leaks
Water Heater Repair
Hearing clanking or knocking sounds coming from your water heater? A diagnosis of the unit is the first step in your water heater repair.
Before tackling any water heater problems, you first need to know what kind of water heater you have. Do you have a tankless water heater, electric water heater, or gas water heater?
After you have determined what kind of water heater you own, you can start to troubleshoot your water heater problem.
If you need a water heater repair, call one of our experts. No matter the problem with your unit, we'll find it and fix it for you!
Do you have a water heater problem? Call Us Today
Water Heater Installation & Replacement
The average lifespan of a water heater is 20 years. However, as they get older, they become more likely to require costly repairs. The need for repairs varies based on several factors, including age, upkeep, and type of water heater.
Replacement is more cost-effective in cases where the expense of the repair is 50% or more of the cost of replacing a water heater.
Modern water heaters include the following benefits:
Unlimited hot water
Significant energy savings
Increased reliability
Compact size
We offer professional installation of all models of water heaters, including tankless and electric units. Our experienced technicians will work with you to determine what type of unit is right for your home.
We also provide emergency services 24/7, so if your old water heater breaks down on a Saturday at 2 am, we'll be there to help!
Tankless Water Heaters
The demand for energy-efficient appliances is on the rise. Luckily, you can purchase water heaters that require less power than traditional storage tanks and still provide all the hot water your household needs.
A tankless water heater does not store water or use a tank to deliver hot water. Instead, it heats cold water as needed and sends it directly to the fixture.
Tankless water heaters only produce as much hot water as is needed at any given time, which can help you save on energy costs and keep more money in your pocket.
Our technicians will not only install a new tankless water heater for you, but we'll also make sure it's safe to operate. Our team of professionals is ready to help! We offer an array of tankless water heater services, including installation, replacement, and repair.
Water Heater Maintenance and Inspections
As homeowners, we are all aware of the importance of home maintenance. Homeowners know that maintaining their water heater is important to keep it running smoothly and safely.
Many people don't realize how often their water heater should be maintained or that they can have done inspections to ensure its safety. If you're unsure when your last inspection was, now is a good time to call our local plumbing company!
They will be able to inspect for any potential problems before anything goes wrong with your heating system.
Contact our Professionals for Hot Water Heater Service
Hot water heaters are a necessary appliance for most homes. If yours is not working, you need to call our experts as soon as possible.
We provide emergency service and repairs on all brands of hot water heater units at affordable rates that won't break the bank.
Give us a call right away because these issues can cause damage to your home if left untreated too long. You don't want to wait any longer- give us a ring today!
Frequently Asked Questions